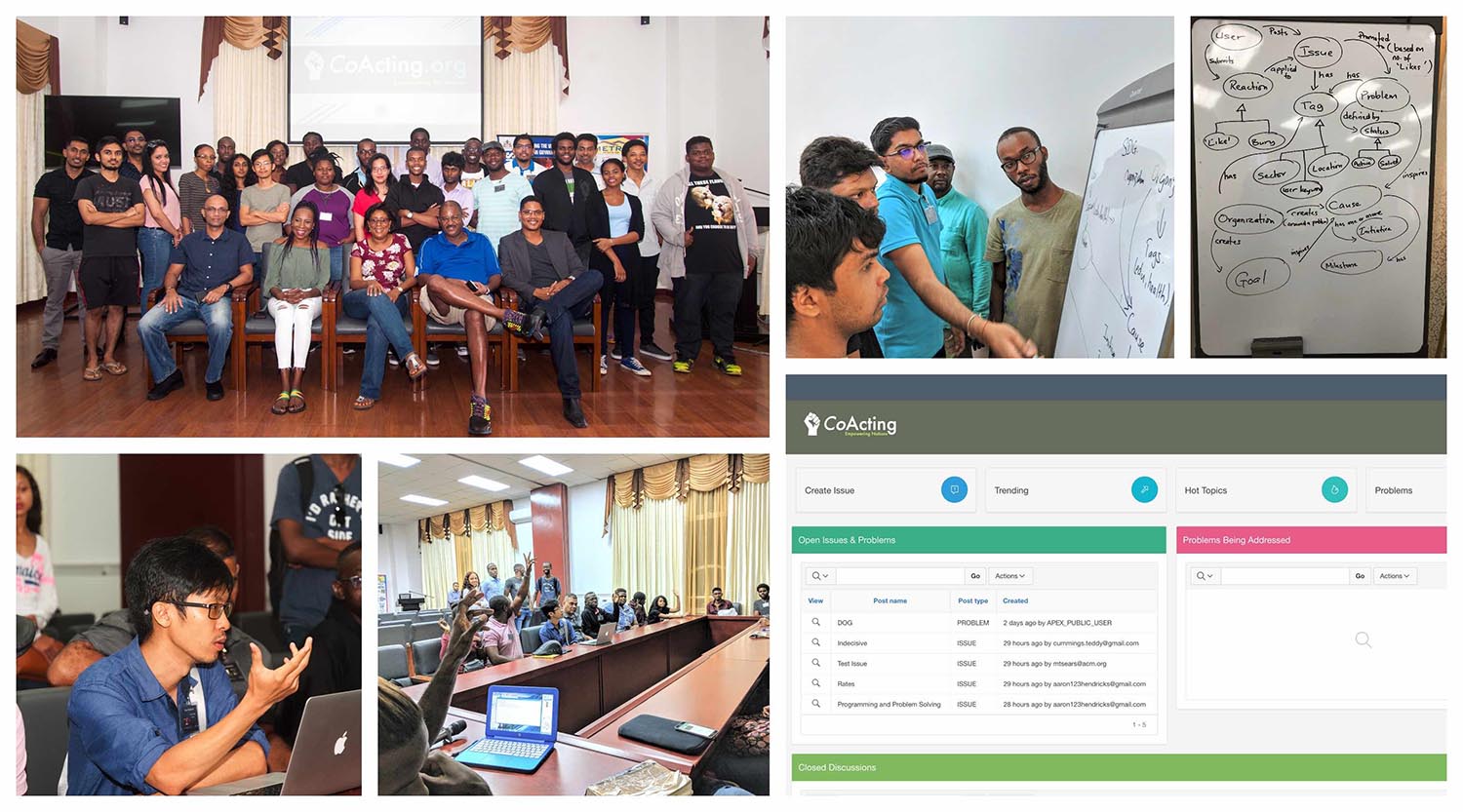 Hack Solve seeks to boost civic engagement
AFTER an intensive two days of idea generation and software creation, the 17 technologists that participated in the inaugural 'Hack Solve' event have managed to create a software prototype that will seek to boost civic engagement in Guyana.
The Nexus Hack-Solve event was hosted at the Arthur Chung Convention Centre under the auspices of local social impact and tech company, NeXus Hub Inc. Beginning Friday evening, the 17 innovative minds were tasked with going through a pool of nine problems garnered from citizens and choose one that they would collectively work on.
According to Eldon Marks, Director of the event and Chief Executive Officer (CEO) of Version 75 (V75), the company spearheading the event, "The first phase was to just go through the problems and select one," and he added: "They [the technologists] sat down and they discussed each one of them individually."
"What's interesting is that they [the technologists] didn't necessarily settle on a single problem, they actually choose three problems and two of them were sort of overlapping and they chose to combine those two and work on them first," Marks related.
Over the course of the weekend, the team worked on the first problem: to boost civic engagement. Marks explained that it is a social network for social impact, which has a two-fold purpose. The first is that it indexes various advocacy, voluntary and generally, civic engagement focused groups in Guyana and details the work that they do by categorising them based on the problems they work to mitigate.
The next purpose of this software is to give citizens a platform where they can voice what problems are affecting them and then match these problems with the organisation working in that area. What is also great about the application, according to Marks, is that it gives various advocacy groups awareness of each other, so there is more of a cohesive effect to towards a common goal instead of working in isolation.
The Hack Solve event was intended to promote collaboration among technologists and as such it differed from the traditional Hackathon event, which is a tech event that pits tech minds against each other to create the best software solution to a predefined problem. The CEO was overwhelmed at how well the persons-who hailed from different organisations and backgrounds- came together to solve the common problem, as one cohesive unit.
"It's an accomplishment in its own right," he said and shared that his team thought they would have had to moderate the group more. To this end, the CEO highlighted, "The group actually organised themselves from as early as the second day." Thereafter, they worked together to create the prototype and a well thought-out model for implementation in the local context.
Marks hailed the event as "an unexpected success."